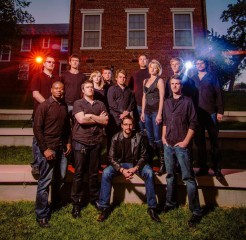 I can hardly believe it–we are less than two weeks away from the end of the semester. With the SLEO performance barely behind us, L2Ork is now getting ready for its final performance of the 2011-2 season as part of the annual Spring DISIS Event. For additional info visit the DISIS event page or our Facebook event page. And while at it, don't forget to like us on our new Facebook page ;-) So, here's the summary of the most relevant info regarding the upcoming performance:
WHAT:   Spring DISIS Event featuring L2Ork
WHEN:   April 30th, 2012 @ 7:30 pm
WHERE: Squires Studio Theatre
I would also like to use this opportunity to thank our sponsors, ICAT and SOPAC, as well as our partners Kids' Tech University. Looking forward to seeing you there!