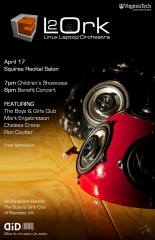 It's been a busy semester to say the least. Consequently, I hope you'll forgive us for posting this announcement so close to the actual event.
It is my great pleasure to announce the upcoming joint L2Ork/DISIS spring event scheduled for April 17th 2010 (Saturday) in the Squires Recital Salon, starting at 7pm with the Boys & Girls Club of Roanoke, VA children's showcase, followed by the 8pm Benefit Concert.
Apart from the L2Ork 14-member ensemble, the program will also feature guest artists Matthew Burtner (UVA), Ron Coulter (SIUC) and Mark Engebretson (UNCG), as well as Virginia Tech Music Department's tremendously talented soprano Chelsea Crane. All donations will benefit Boys & Girls Club of Roanoke, VA.
The 7pm program is geared mainly towards children and parents and will also include a demo hands-on session for visitors and parents alike. The 8pm benefit concert will be more experimental in nature, featuring numbers for L2Ork and soloists, works by visiting artists, as well as musical robots and other innovative creative technologies.
On April 20th, L2Ork will also embark on its maiden tour made possible through generous contributions by Virginia Tech's Center for Creative Technologies in the Arts (CCTA), Institute for Society, Culture & Environment (ISCE), Bradley Department of Electrical and Computer Engineering Department (ECE), Collaborative for Creative Technologies in the Arts & Design (CCTAD), and Center for Human-Computer Interaction (CHCI).
The tour will include performances at the Cincinnati's Conservatory of Music (April 20th) as part of the Sonic Exploration concert series, Southern Illinois University (April 22nd), and Indiana University Purdue University Indianapolis (April 25th) as part of the International Intermedia Festival of Telematic Arts.
For additional info visit the Events page.
---