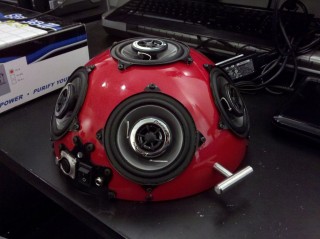 Yes, the rumors are indeed true. Last fall L2Ork has partnered up with the Boys & Girls Club of Roanoke, VA and the Music Lab at the Jefferson Center and with the help of grants from 21st Century and Bank of America, we are now in the process of designing and building a satellite laptop orchestra for the 5th graders. As excited as we are about our upcoming version 2.0 of our shiny hemispherical speakers, we simply had to share this photo with everyone. The red hemispherical speakers offer a number of structural improvements over the old design, as well as the new red look. The new hemis have already become famous among l2orkists as "ladybugs."
As part of our ongoing partnership with the Boys & Girls Club, this coming Friday we will be hosting 5th graders here at Virginia Tech DISIS who will assist us in building the remaining "ladybugs" as well as have an opportunity to interact and "jam" with VT l2orkists. The event will be held on Friday March 19th 3:30-5:30pm (EST) in DISIS. We would like to use this opportunity to also cordially invite all VT Stakeholders to join us in celebrating this exciting event. For directions to DISIS, please click here.
To top this all off, I have a number of other exciting announcements to share with you, so stay tuned for more updates.
Let the ladybug invasion begin!
---