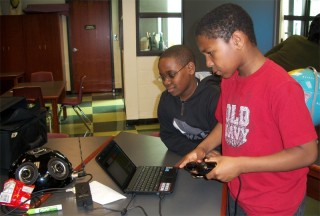 Hello all,
Over the last month L2Ork has been working with the Roanoke Boys and Girls club to adapt a laptop orchestra for use in elementary school education. I have been traveling to Roanoke 3 times a week to teach the students and help them make music. We currently have ten 5th grade students involved in the program, and they are all eager to learn and have been great to work with.
Both the students, and VT l2orkists are very excited by the opportunity to collaborate with one another through the use of the laptop orchestra. On April 17th, we very much look forward to performing with our fellow l2orkists from the Boys & Girls Club. Undoubtedly the upcoming concert will be a big step forward for all involved, and I urge everyone to attend.
More to come in the next couple weeks, Jonathan.