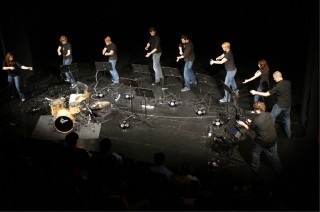 As they say, what does not kill you makes you stronger. With the bout of challenges the ensemble faced over the past few days we approached our next venue in Zagreb's magnificent Museum of Contemporary Arts (event page) with great caution. And it seems that our preparedness has indeed paid off. Not only did we land a series of interviews, including the nationwide RTL TV (broadcast today as part of the 6:30PM national news, fast-forward to 26:17 on the timeline for our segment) and the Croatian National Radio, but our story also aired in the most unsuspecting places, such as the popular Croatian computer magazine. More so, ensemble's creative output has been compared to famous artists such as Stockhausen and Cage, as well as Einsturzende Neubauten, something that we've found quite flattering. Following the concert, once again the stage was swamped with curious audience members, something that has by now become the staple of our concerts. Needless to mention the event was a great success that has left us all energized and motivated more than ever before.
Tomorrow 11am-3pm, a national radio show titled "Putovi Hrvatske Glazbe" (loosely translated as "Paths of Croatian Music") will air featuring L2Ork works and an interview, followed by additional broadcasts of various pieces over the next couple of weeks. Similarly, a TV show titled e-Hrvatska (e-Croatia) will in coming days air on the national HTV an interview with excerpts from the performance. We will make sure to keep you posted as soon as we know more. We are also working on editing video footage which we will be posting hopefully soon. In the meantime, to keep up with latest tour developments, join our facebook page. For a media fix, check out David's L2Ork tour photo journal.
Next stop, May 21st @ 8PM at Hamburg, German, with a performance at the Academy of Music and Theater.