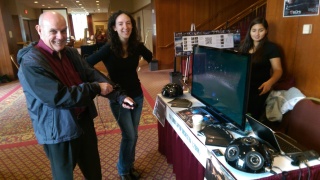 As we recover from the last night's DISIS event, first one to harness the full power of ICAT's newfound Cube and its 128+ audio speaker array, I found myself enjoying a few minutes of downtime and figured it may be a good idea to share the latest updates in the land o' L2Ork.
First and foremost, last night we had an *amazing,* if not one of the best DISIS events (right up there with the L2Ork debut) with standing room only audience and a number of people turned away due to capacity limitations. Don't get me wrong–CUBE is not that large. Yet, the level of interest, particularly considering our Facebook event page shows barely 25+ in attendance, left a lasting smile on our faces. Still, we felt bad for those of you who made an effort to show up on a rainy Monday night and support us only to face closed doors. I wish we could somehow redeem ourselves in your eyes (ears?) and I sincerely hope being turned away did not ruin your evening. Perhaps this is a good excuse to start relying on CFA's amazingly efficient ticketing system for all future DISIS events?
Last night's event also featured a collection of fantastic guest artists (Elizabeth Hoffman and Sarah Plum), VT faculty artists (Jay Crone), as well as the ICAT's pillar of all things technical (and artistic!) Tanner Upthegrove. Heck, the program even included my 2-minute Tornado simulation… We indeed pushed Cube's infrastructural limits, engaging its 128-speaker array through a number of different spatialization approaches, from Wave Field Synthesis to customized Vector Based Amplitude Panning. All in all, a fantastic evening.
Little over a month ago, Virginia Tech installed its new President, Dr. Timothy Sands. L2Ork participated in installation festivities in a form of a student showcase, focusing on its ongoing K-12 outreach. In addition to a number of visitors, faculty, and students, our booth was also visited by Dr. Mark McNamee, Virginia Tech Provost, who stopped by to hone his L2Ork skills. We are truly flattered by the ongoing attention L2Ork continues to enjoy both as an artistic ensemble and a K-12 research hub. I am particularly thrilled by the recent post in dcist.com that highlighted L2Ork as one of the "8 Awesome Research Projects at Virginia Tech."
L2Ork repertiore has grown quite a bit this semester with works from Eric Lyon, a reworked version of Between for L2Ork and Saxophone (performed by a talented L2Orkist and saxophonist Brock Allen), and soon we'll have a piece by Charles Nichols. Our collection of pd-l2ork abstractions has also matured, allowing for rapid prototyping of new compositions. Speaking of pd-l2ork, we are now nearing a new milestone in software's development with a new major release imminent. For the latest version, please check out our Software page. As we look forward, we will shift our focus to porting core pd-l2ork to the amazing and incredibly maleable Qt UI, thus paving way towards an entirely new iteration of our software of choice and finally moving away from the aging Tcl/Tk framework.
We've had an amazing group of L2Orkists this semester–thirteen strong for a thirteenth DISIS event in the Cube, or as we call it the inaugural DISIS Cubed event ;-). As of this semester, the L2Ork student organization is also back online. As we look forward to the next semester and the upcoming SEAMUS national conference that will be hosted here at Virginia Tech (March 26-28), we will be joined by Nicholas Rich who will be assisting with the rehearsals as well as writing for the ensemble. This will be a fantastic opportunity for L2Ork to show off in front of leading national computer music artists and researchers. Indeed, next semester is going to be an exciting one. Hence, if you are interested in joining the ensemble, there could not have been a better time to do so. You can simply register for the course online (look for MUS3314) and if you have any questions, do not hesitate to contact us. In the meantime, don't forget to like us on Facebook and/or follow us on Twitter ;-)